NZ HERALD, FEB 2015
Design & build: The hunt for the perfect tile
10:00 AM Sunday Feb 22, 2015
The Block NZ 2012 winner Ben Crawford and his fiancé Kylie are building their dream home. Share their proud moments and pitfalls here every week.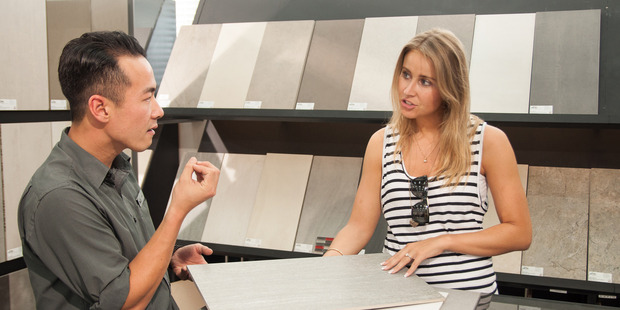 Jack Sun shows Kylie Leydon the Discover Origin tile and discusses a few options. Photo / Ben Crawford
It's funny, looking back on how we met the different people helping us build our home. In some cases we had great existing relationships, such as with the builders at Haven Renovations I worked with during The Block NZ. For others, it has been through recommendations. Then for everyone else we cold-called companies or dropped in on businesses on a whim.
The latter is happening a lot more regularly now that our focus has turned to nailing the finishes in our house. Recently we have been trying to decide on the tiles we want in our bathroom and en suite. Without an existing relationship with a specialist tile supplier, Kylie and I had to start from scratch.
Last weekend we went to Wairau Park, Auckland on a hunt for the perfect tile. The first place we found was closed on a Sunday - go figure! At the next one, we spent 20 minutes in the store and no one acknowledged us or asked if we needed help, even though they weren't busy.
We had a general idea of what we were after - a light grey, stone-like tile we could use on the floor and the walls. We like that simple yet stylish look that would suit the natural aesthetic of our house.
Wandering around the store we found a tile we thought was ideal and then sales assistant Jack Sun introduced himself and asked if he could help. We explained what we were looking for and he told us in the most polite way possible that we were actually looking at an outdoor tile. Oops!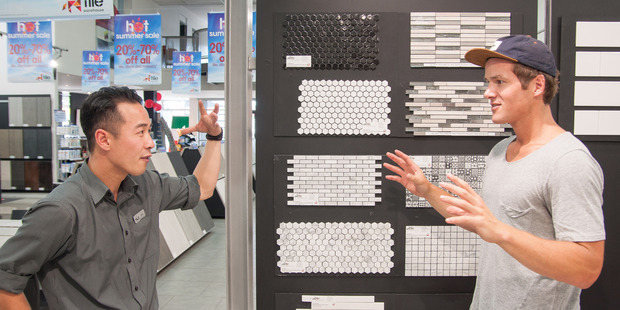 Explaining our kitchen layout to Tile Warehouse's Jack Sun. Photo / Ben Crawford
Then Kylie and I had one of the most enjoyable retail experiences we have had in a very long time. As another sales assistant called Bill joined us, we proudly pulled out our plans and spent ages explaining what we were doing, how we came upon the section and how we designed around the challenges.
They loved our house and took the time to understand the "inspired by nature" look we were seeking, before suggesting tiles from their collection.
They nailed our brief right off the bat. As soon as Jack showed us the Discover Origin we knew we had found "the one". I don't think we could have dreamed up a more perfect tile if we had tried.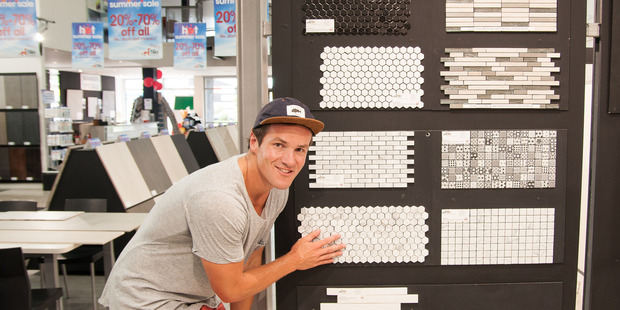 Admiring the stunning Calacatta Marble mosiac tiles we've chosen to use in our kitchen. Photo / Ben Crawford
It was exactly what we had envisaged, with its schist-like appearance and textures a perfect complement to our pale timbers and crisp white bathroom fittings. And "made in Italy" has a lovely ring to it.
By then we were on a roll and decided to nail our kitchen splashback at the same time. Our initial thinking had been to use large subway tiles but after looking at them, we weren't convinced they were right. Knowing our desire for all things natural, Jack had another trick up his sleeve and took us to look at the Calacatta Marble hexagon mosaic tile.
I'm not sure if you can fall in love with tiles but Kylie and I did at that moment. The solid marble hexagons in various blends of white and grey were absolutely beautiful and we immediately saw the impact they would have in our kitchen.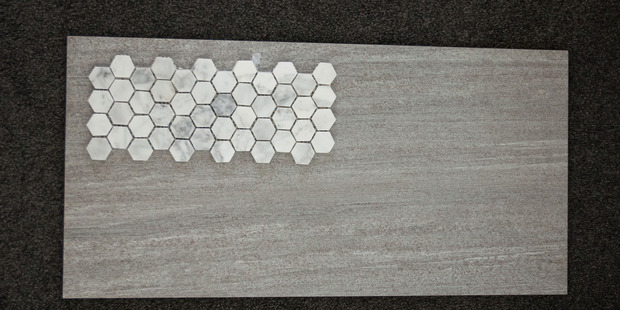 The stunning Calacatta Marble mosiac tile we've chosen for our kitchen splashback and the schist-like Discover Origin tile we've chosen to use in our bathroom and ensuite. Photo / Ben Crawford
It was then we discovered the store had been closed for an hour. Feeling guilty for keeping the guys so long, we quickly had a quote made up and the promotional deals made the total a pleasant surprise.
Jack suggested we go home and think through our options as the sale was on throughout February and the prices would be valid for another couple of weeks.
But who were we kidding? As we were about to get in the car, we knew our hunt for the perfect tiles was over and we were only delaying the inevitable.
So we walked straight back in and confirmed our order, stoked that our cold call to the Tile Warehouse had turned out so well.
Renovation innovation
Ben & Kylie's build is really taking shape and they've said organisation is key when it comes to managing a project like theirs. The same thing applies to renovation projects, especially when trying to wrangle the budget. Rather than tackle a build from scratch, a great way to get the home of your dreams is renovating the one you already have. If that's what you have in mind, Kiwibank has a great budgeting tool to get you started and keep your finances on the straight and narrow.

RenoMate is our super-easy (and free!) renovation budget tool that keeps track of all your reno details - from costs and estimates to photos and paint shades. Use it on your desktop, tablet or smartphone. You can track your spend, compare multiple quotes and choose which one to add to your budget total, store photos of items and ideas you like, and use the handy built in calculator to work out those tricky per metre costs. We'll even do the math for you and automatically add GST if it's not included in a price.
Avoid budget blow outs and update your reno details on the go with RenoMate. It's easy and free, visit kiwibank.co.nz/renomate-tool to get started.
• Find out more about Ben and Kylie's dream home at ourdreamhome.co.nz
• For more information on the Kiwibank First Home Buyer's Guide visit: kiwibank.co.nz and search for "first home".